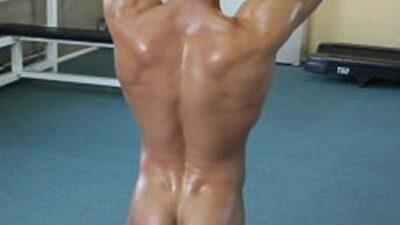 Nothing less than perfect performance is acceptable from our trainees. As a rule, our workouts are extremely hard, but we expect the boys to meet all goals that are set for them. This does not mean only performing the number of reps in a set time, but also keeping the perfect form while exercising. If the trainee does not meet the goal set or does so while showing  a sloppy form, he will be subject to penalty workouts. No mistake is forgiven. All mistakes will be repaid during penalty sessions.
Already from the first casting, the trainees are introduced to the concept of penalties. If the boy makes a mistake, during his workout, he is subject to a penalty session. Usually the penalties are in form of additional workout (push-ups, jumping-jacks, burpees) immediately after the main training session, which can be really punishing after long workout. Usually, the trainee's attire is even more limited during the penalty sessions. Sometimes we use very uncomfortable stress positions as penalty ("Kneeling Present", Shiiko Dachi, etc). At the request of some of our members we have introduced gut punches as a new form of penalty and has been received very well by the audience.
Here are some preview photos from penalty sessions.