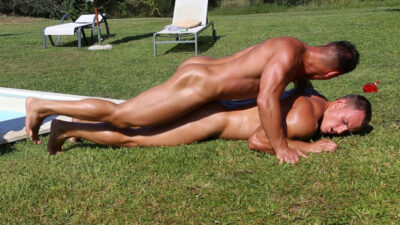 In Fitcasting, we like to put perfect young men through some of the most brutal workouts. You can enjoy following our young trainees suffer through extremely hard workout routines in gym, outdoors and at home. The workouts are performed for your entertainment – this is why we want to show the boys off to the maximum. As they train, the boys are nude, hard and only rarely are allowed to wear the tiniest outfits.
The workouts vary from classic cardio and strength building routines to the most exotic and demanding fantasy challenges. Often our members can demand workouts and we like to listen. Some of the hardest and most popular routines that the boys have had to perform originate from our members.
If the boys fail to meet the set targets or otherwise please their cruel trainers they will be punished: if they are lucky with more workouts, but if they are not, stress poses, gut punches or simple whipping is not unusual.
Here is a preview gallery from some of our workouts.